Are you wondering solutions to import MSG files into Outlook? Then, here you get the desired solutions for your concern. Here, you get to know about MS Outlook, reasons, and methods.
MS Outlook is popular worldwide for its features. Apart from features the mail client also has few mail extensions of itself that are as follows:
.ost- Online storage table where you can store emails, calendars, notes, contacts, etc.
.pst- It is a Personal Storage Table(offline table), which is used for backup purposes.
.msg- It is an email message extension that saves each MSG mail .into separate PST files.
Let's discuss some of the common issues and requirements that will help to move MSG files into Outlook.
Reasons for Importing .msg files into Outlook :
MS Outlook is the most trending email client used today in workplaces
Being one of the extensions of Outlook, MSG files lack in some properties than PST.
MSG files are not suitable for bulk conversions.
At this moment, you all will know the reasons to migrate MSG files, now we will discuss the methods to convert MSG file extension to PST file format. Some users may look to open MSG file with Thunderbird application.
Follow below-mentioned steps to import MSG to PST file format.
How to Import MSG files into Outlook 2010 manually?
Method 1. Drag – Drop MSG files into Outlook PST
Step 1: Open MS Outlook on your web browser.
Create a new folder in the Mail section. 
Give it a unique name for better recognizing.
Users can also move MSG files into any available folder as well like inbox, sent items, any custom, etc.
Step 2: Open your all MSG files folder. Select all files ( Ctrl+A) and drag-drop all selected emails into a newly composed folder (MSG Files).
Step 3: You can see that all the files have been imported successfully. Now you can open your MSG files with Outlook PST containing all content, properties, and attachments, etc.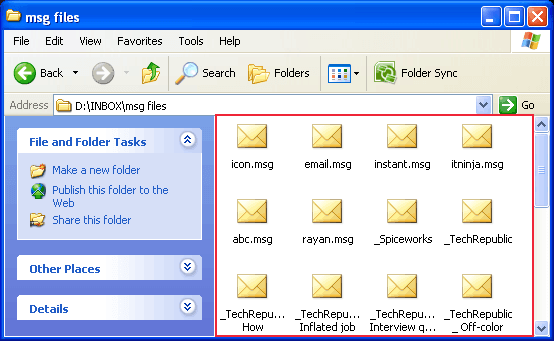 Method 2. Copy And Paste
Step 1: Go to the location of your .msg files and copy all of them.
Step 2: Next, open Outlook application and paste the copied files in any in the folder of your choice.
Limitation to Import MSG Files into Outlook Manually:
A user can import multiple MSG files into a single PST. To save each MSG file into a separate PST, users can opt for an automated approach as selecting each file and then pasting/importing them to your Outlook PST is a little time- consuming task.
Some things to keep in mind-
Increases risk of data loss because of no technical experience.
Data integrity might lose its stability.
To apply the above method technical experience/technical expertise is needed.
Automated Tool to Migrate MSG to PST:
User can opt MSG Converter if the above approach doesn't work properly. The converter aims in allowing sorting of emails via date-range, compatible with most versions of Windows OS/MS Outlook, Conversion of MSG file extension to various formats, compatible with most versions of Windows OS/MS Outlook, etc.
Let's look at some interesting features of the tool.
Features:
Conversion of file formats like PST, PDF, EML, MHT, TXT, HTML and MBOX.
Imports MSG files to multiple email clients such as Thunderbird, Gmail, IMAP, Yahoo, Zimbra.
Interactive GUI for users to understand better.
Performs batch conversion faster.
The date range filter allows you to choose mails of a specific time period.
Summing It Up:
In this blog, we have discussed all the manual and automated approaches that will help the user for importing .msg files into Outlook successfully. In case, users have a little doubt about the manual method then he/she can also opt for the automated approach that is easily available in the market methods that are required to import MSG to PST. The manual method always comes with a limitation, so be careful whatever method you use, apply carefully.