Most firms and organizations are using the SQL database for storing their data files. A large number of data files are corrupted due to the intruding virus, corrupted directory, and system failure. These malfunctions corrupt primary files of SQL Database Server. Being a SQL server user, an individual must be ready with the solutions to repair MDF files in SQL server, as these kinds of issues keep erupting in-between.
The MDF file acts like a pillar for SQL databases as it consists of schema and the whole database of the SQL server. If by any chance MDF file corrupts, then no one can make changes to the SQL database.
Know Possible Factors for MDF File Corruption:
As we all know that the MDF files are primary database files of SQL server. We need to MDF repair completely to access the SQL database. One can fix MDF files using the methods mentioned below: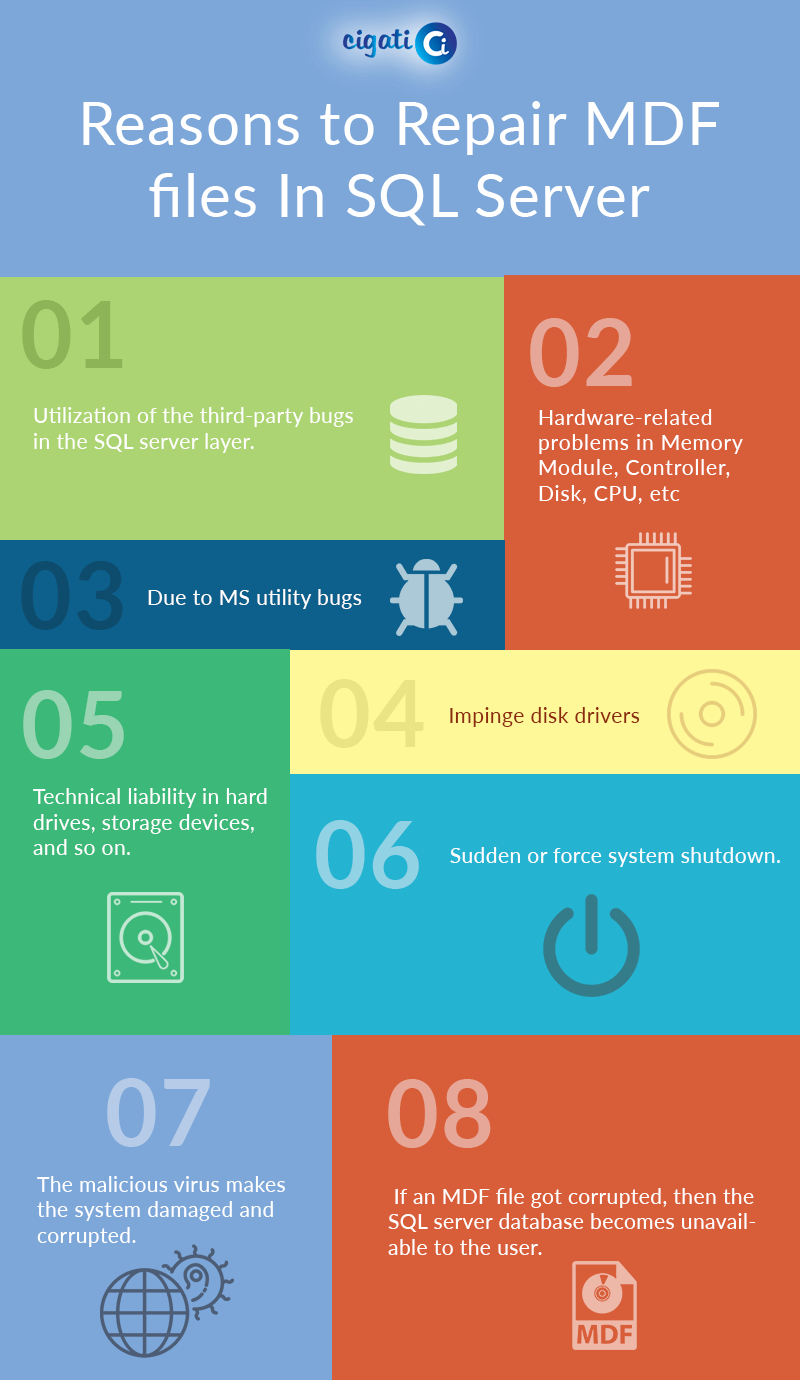 Use of third-party bugs in the SQL server layer.
Hardware issues in Memory Module, Controller, Disk, CPU, etc.
MS utility bugs.
Intruded disk drivers.
Technical difficulties/faults in hard drives, storage devices, etc.
Abrupt or force system shutdown.
The intruded virus damages the system.
If an MDF file got corrupted, then the SQL server database becomes unavailable to the user. Other than the corruption of MDF files, there are several other issues. These issues may be some technical and manual errors in the SQL database server. Let's take a look at some methods to avoid these errors. You can easily repair corrupt SQL database MDF File through the given manual methods from below.
How to use Manual Ways to Repair MDF Files Exclusively?
Manual Method:
Run DBCC CHECKDB command or SQL database files by applying the instructions below:
DBCC CHECKDB (Name_of _corrupt _database)Note: Also, you can define the other choices as well like no_infomsgs, info msgs with DBCC CHECKDB, etc.
Then, evaluate the index ID.
Case 1: If you view an index ID > 1 drop it and create it again.
Case 2: If you view the index ID is either 0 or 1, then run DBCC CHECKDB command again using the below repair functions like repair_fast, repair_allow_data_loss, repair_rebuild, etc.

DBCC CHECK (name_of_corrupt_database, repair_fast)
DBCC CHECK (name_of_corrupt_database, repair_rebuild)
DBCC CHECK (name_of_corrupt_database, repair_allow_data_loss)

Now, execute the DBCC CHECKDB command to verify that there is zero percent corruption left in the SQL file. And wait for the message below- message.
DBCC CHECKDB shows 0 errors of allocation and 0 errors of consistency name_of_your_corrupt_database.
Portable solutions are not always time-consuming. These include other limitations apart from the time-consuming feature. There is a need of a technical knowledge/technical expertise to perform a manual solution. So, it is, therefore suggested to always use a professional method to repair MDF files in SQL database. One such tool is SQL Recovery Tool. Because the utility is helpful as it does not require any technical knowledge. Also, it is a less time-consuming approach.
Substitute Method:
SQL server database recovers both PDF and MDF files. The utility claims accurate recovery, offers MDF file recovery in two modes, repairs MDF and PDF files. It also allows previewing recovered MDF files and highly supports most SQL server and Windows OS versions. Now, let's take a look at some utility features.
Features:
Recovers both primary and secondary database files of SQL server.
Offers two modes of recovery: Standard and Advanced.
Compatible with more than one datatypes.
Repairs selected MDF files which can later be saved to the new database.
Offers previews of recovered MDF files, before saving.
Supports three types of compressions: ROW-level, PAGE, and Unicode.
Save SQL scripts at a pre-defined location.
Allows selecting authentication mode for the newly generated database file.
Conclusion:
As we discussed above that the SQL database server is popular worldwide, it is fairly used to corrupt MDF files. So, to repair MDF Files in SQL Server, one can take the help of optimized solutions to recover them. I hope you find this tip helpful.