Overview: Are you facing Microsoft SQL Server error 962 while working with your SQL Server? Are you unable to access data from SQL Servers? If yes, then your error will resolve in this article. In this article, you will know the complete process to deal with the Microsoft SQL Server error 926 with the best possible solution. Read this article from top to bottom in order to fix SQL error 926.
What is Error 926 in SQL Server?
Database 'msdb' cannot be opened. It has been marked SUSPECT by recovery. Look at the image given below for more information:

The error appears above is the screenshot of the user screen, when the database marked as suspect due to failed recovery process. The SQL Server shows error 926 mainly when the user attempts to connect SQL Server instance using sysadmin login and SSMS. This error code also creates trouble at the time of SQL transactions and affects the whole functioning of SQL Server. Sometimes, it makes the database inaccessible for the user.
You might face SQL Server 4064 Error when working with SQL database. But this can be solved easily.
Reasons Behind SQL Server Error 926 MSDB:
There may be several different reasons due to which this SQL error code 926 appears. Reasons for the SQL Server Error 926 are:
User SQL Database marked as suspicious.

Due to the Malware errors on your hardware.

Corruption in the header file of the system.
Abrupt shutdown of the SQL Server application.

The error arises in case the SQL Server user appends.

When restoring the database in SQL Server.
Extract transactions from the database log.
Fixes for Microsoft SQL Server Error 926:
There are many solutions to fix SQL 926 error code. One can follow any of the fixes given below: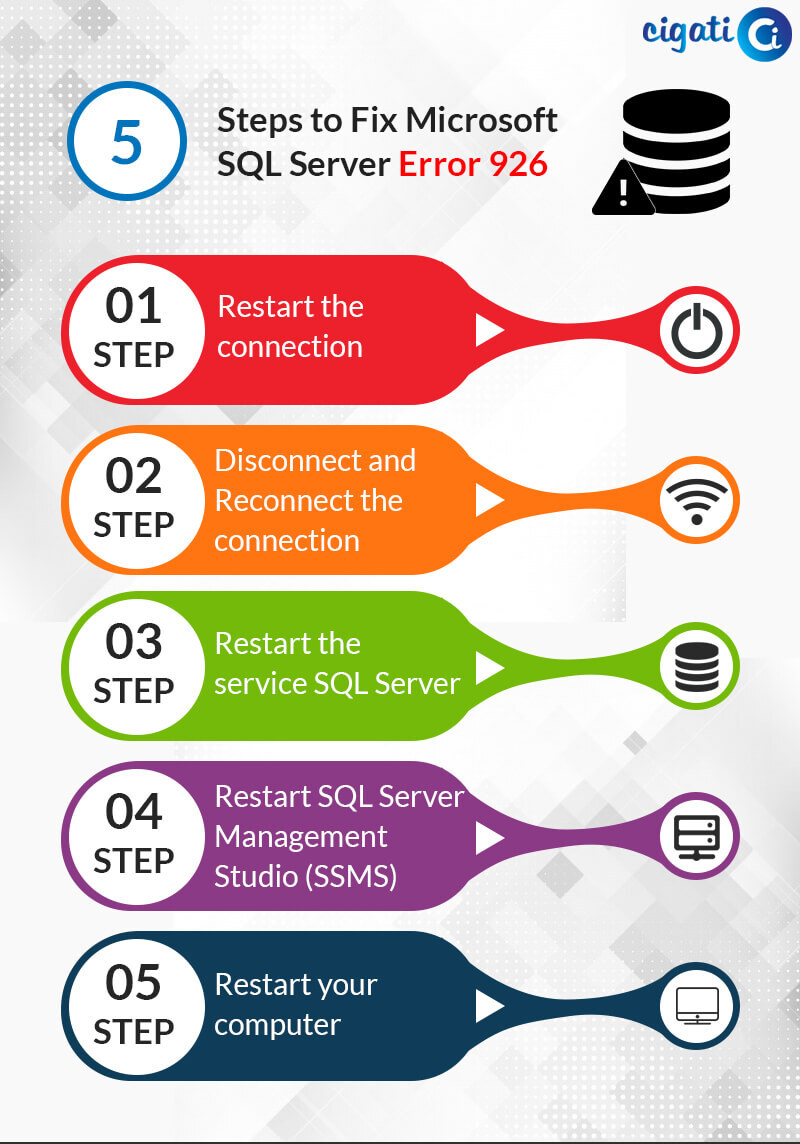 If these basic methods don't work for you then you can use other Manual Methods to Fix SQL Error 926. For more details of these methods you continue reading and get the complete details:
Method 1: Using Commands
Firstly, open a new window and use the query given below:


EXEC sp_resetstatus 'DB_Name'
In a database, sp_resetstatus disables the suspect flag. Basically, it updates the status column as well as a mode that is named as sys.databases. You'll get the sysadmin rights to perform this action only when you have login details.
ALTER DATABASE DB_Name SET SINGLE_USER WITH ROLLBACK IMMEDIATE
This query will set your database into the single-user mode.
ALTER DATABASE DB_Name SET MULTI_USERDetails
You can set your database into the multi-user mode by using this command.
ALTER DATABASE DB_Name SET EMERGENCY
It becomes READ_ONLY copy if your SQL database has been set to EMERGENCY mode. After that, only the sysadmin members can access it.
DBCC checkdb ('DB_Name')


Use this command to check integrity.

DBCC CheckDB ('DB_Name', REPAIR_ALLOW_DATA_LOSS)


Use the above command to repair the errors.
Method 2: Via SQL Management Studio (SSMS)
Open MS SQL Management Studio (SSMS) and then on Object Explorer. After that, in the opened connection item, right-click and choose Stop.
Open Control Panel.
Click on Administrative Tools>>Services.
Now, highlight the server (MSSQLSERVER) item >> right-click on it.
Click on Stop.
Following the path:
C:\ProgramFiles\MicrosoftSQLServer\MSSQL10.MSSQLSERVER\MSSQL\DATA

Now you have to move the MSDBData.mdf data files to MSDBlog.ldf to a different location.

Now, Copy-Paste this file from a new location to the old location.
Click Right mouse button and then on the Start option.
Now, refresh your database.
Finally one can Detach the MSDB File.
Limitations of Manual Fixes
The manual method that we have discussed above, involves a lot of effort and is a cumbersome and tedious task. To fix your Microsoft SQL Server 926 this is complex methods to be executed. Sometimes a user will do mistakes during the manual command execution. Hence the process is too lengthy and time-consuming. Moreover, the manual procedure is quiet difficult for non-technical users. Thus, it is an effortless approach is described which overcomes all such issues.
Professional Method to Fix SQL Error Code 926
One can take the help of third-party SQL Recovery Tools in order to fix any of your errors related to SQL Database. It is one of the most trusted and best method to fix Microsoft SQL Server error 926. By using this utility it is easy to repair all SQL Server corruptions and fix them effectively. One can easily recover MDF and NDF files with all the SQL Database objects like tables, views, stored procedures, triggers, etc. In simple words, the user can restore the complete SQL Server Database into a new database or an existing one. Third-party utilities offer several features that allow the user to easily complete this task.  Here are some highlighted features:
Recover SQL Server database with all objects
Useful for novice users (non-professional)

One can use this tool for any version of SQL Server

Recover MDF and NDF without size limitations
Restore SQL Database to new database
Easily recover deleted records from the table
No virus or malware attack issues
24*7 customer support available
Final Words
In this article, you'll get complete knowledge to fix Microsoft Server error 926. Although there are two methods in this article, it is always recommended to users to take the help of SQL Server Recovery tools as these utilities are more safe and secure. And there is not an issue of losing the data when you are using the third party tool.