How to Setup Yahoo Email Account to Thunderbird?
If you are one of the long term users of Yahoo Mail and now want to setup a Yahoo account to Thunderbird. Then you are in the right place as we are going to discuss ways to setting up Yahoo Mail in Thunderbird.
Email plays a crucial role in daily life, and everyone using Email platforms for communication. Generally, Email users are categorized into two groups i.e, one is using webmail services, and the other is using desktop-based services.
Comparatively, Desktop-based email services are more recommended email services over webmail services. And that is why continuously, people are migrating to desktop-based email services.
Several email applications are available for windows and mac users, and Mozilla Thunderbird is one of them. This email application is used by a wide range of users across the world. Let's start the blog by understanding the reason to migrate yahoo and add a Yahoo account to Thunderbird. You can also Save Yahoo emails to Hard Drive.
Why migrate Yahoo Mail Account to Thunderbird ?
Following are some common reason due to which users need to migrate Yahoo mail to Thunderbird:-
Mozilla Thunderbird is free. Users need not pay any amount. While using other email provider are required to pay a large amount.
Mozilla Thunderbird leverages its users with unique features. Enables its users not only to send/receive email messages but also to maintain the mailbox and other data such as contacts, calendars, tasks, etc.
Comparatively to other desktop email applications, Thunderbird responds more fastly and accurately.
Both POP3 and IMAP protocols are supported. And the MBOX file format is used to store email messages that are almost accepted by all the Email Clients.
Now, after understanding the reason to migrate to Thunderbird. Let's move towards the steps to Set up Yahoo Mail in Thunderbird.
Steps to Setup Yahoo Account to Thunderbird for free:
Before setting up Yahoo mail to Thunderbird, You require to set up Mozilla Thunderbird. Follow the below-mentioned steps for adding a Yahoo account to Thunderbird:
Step 1: View the Mozilla Thunderbird application on your computer. And in the appeared screen below, create a new account option Tap on Email.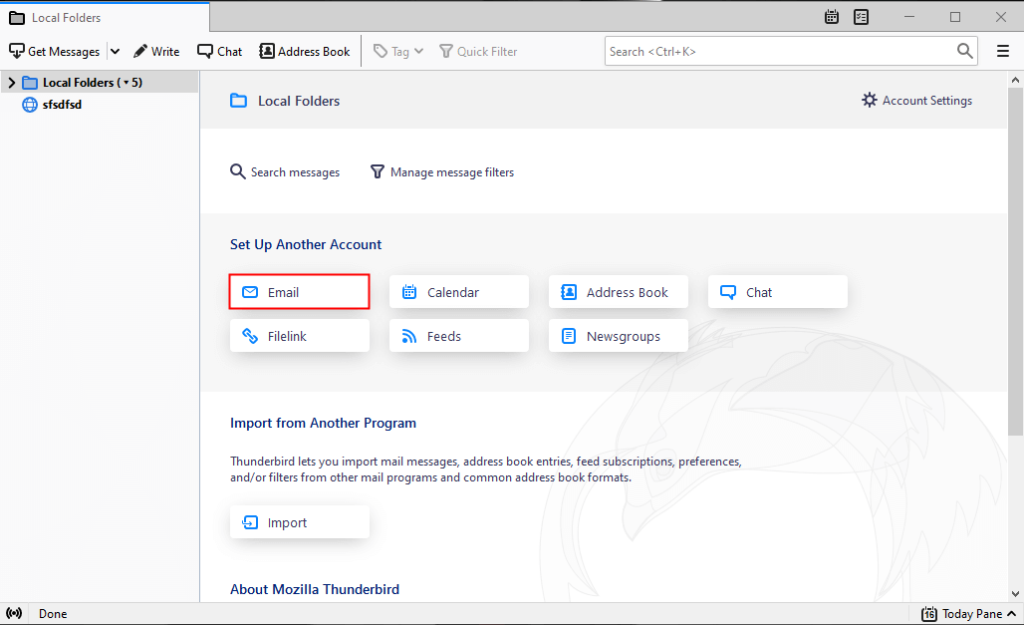 Step 2: A new dialog box will appear as – Welcome to Thunderbird. Since you require to add an existing Yahoo mail account, tap on the Skip this and use my current email option.
Step 3: On the displayed Mail Account Setup dialog box, provide your name, Yahoo email address, and password.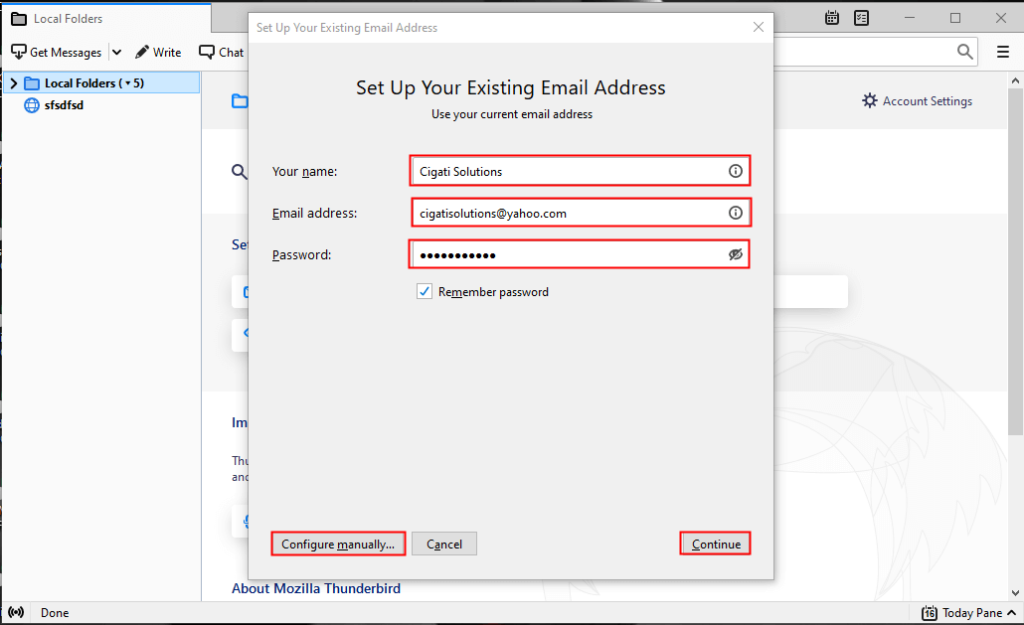 Note: You have to put the password created for a third-party app because you cannot use your Yahoo mail account's password here. And then, after a tap on the continue button to initiate the procedure.
Step 4: After the configuration process completes successfully, a window will appear. Here you are required to choose either IMAP or POP3. If you select the IMAP option, you can save the entire emails remotely. And if you click on the POP3 option, it can save your overall email messages on your PC. If you find the default settings prompt for you, hit Done to save the settings.
Note: If you require to configure the settings manually, Press on Manual config.
Consequences/ Limitations of Manual Methods :–
The manual method is free, and users do not require to pay any amount. But to use these native methods, you have to be prepared for its consequences. Some of the problems you may face while you set up Yahoo mail in Thunderbird manually are as follows:-
Sometimes users are not able to use Yahoo mail accounts properly through Mozilla Thunderbird due to improper email settings.
Time-consuming and Lengthy process.
Data loss may occur.
Novice users can not use this approach.
Professional Approach to Setup Yahoo Mail Account to Thunderbird :-
Professionals always recommend using a third-party tool for safe and secure migration. Automated utilities help you to get a hassle-free solution. One such utility is Yahoo Backup Tool. This tool enables its users to export Yahoo email to Gmail, Outlook, IMAP, Thunderbird, Zimbra, and much more swiftly and securely. Let's see some of its features: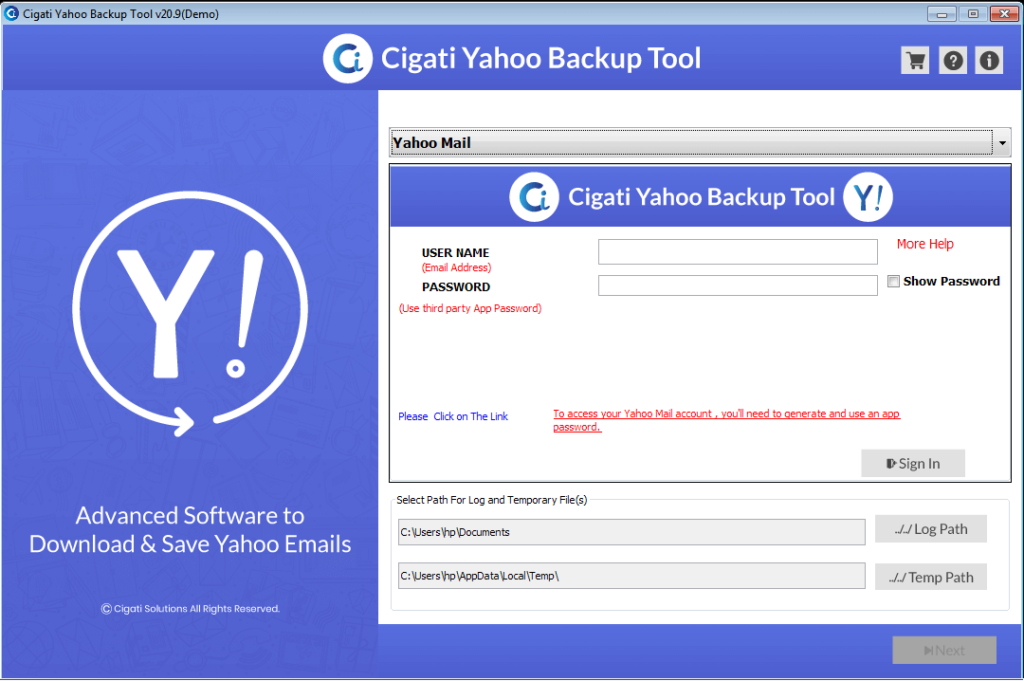 Export Yahoo mails in PST, PDF, EML, EMLX, MBOX, MSG, HTML, MHT, TXT, etc. file formats in no time.
Easily saves Yahoo Mail to PC, USB, or hard drive.
The Demo version converts up to 50 emails for free.
Shows Compatibility with all windows 10 and its lower versions and also Mac OS 10.14.
Easy to use GUI of the novice users can easily use this tool.

Conclusions:
Most of the people asking for a solution on how to set up / Add a Yahoo Account to Thunderbird. To backup and migrate the Yahoo emails to Thunderbird, the users can read this blog to discussed methods to add a Yahoo account to Thunderbird with some easy steps and also discussed the professional utility Yahoo Backup Tool. You can go with any of them as per your requirement and comfort.
Realted Post