Free Methods to Save IMAP Mailbox Data in Outlook PST
The article will explain different methods to save IMAP mailbox data in Outlook PST file format. These methods are simple and effective. Both new and experienced users can perform them.
Outlook supports email clients that use IMAP servers like Yahoo, Gmail, etc. You can store these emails in PST file formats. Saving the mailbox items to a local drive is beneficial in many ways. It works as a backup in case of data corruption. You can restore the complete mailbox from the backup file.
Before going further, let us learn the benefits of saving IMAP data to PST.
Why Should You Save IMAP Mailbox Data in Outlook PST?
IMAP mailboxes contain valuable information that is helpful for you. So, you must protect your data by creating a backup of emails. Besides, there are many other reasons why you should save IMAP data to PST that are listed below.
By creating a backup of your mailbox, you can protect your valuable data from unauthorized access. The local drive is a comparatively safer option to store your data because only limited people can open the file.
You can restore the entire mailbox in case of data corruption. Files on the internet are at constant risk of virus attacks. If they corrupt your emails and other data, you can, at least, recover the data to its original state.
Moreover, if you want to switch the email client, you need to save the emails first in a suitable file format. Then you can export the data to the new email provider. The above process is possible through different techniques.
Because of all the above reasons, it becomes necessary to save IMAP mailbox data in Outlook PST. Let us learn different methods for migrating IMAP emails.
How to Save IMAP Data to PST?
By the way, there are multiple techniques to create a backup of IMAP emails, but all of them lie in either one of the two categories: Manual method or automatic method. A manual procedure is a free method in which you need not buy a third-party tool. You can export IMAP data to PST files by performing some steps in the Microsoft Outlook application.
Use Import/Export Function
Open Microsoft Outlook in your system and click on the File option.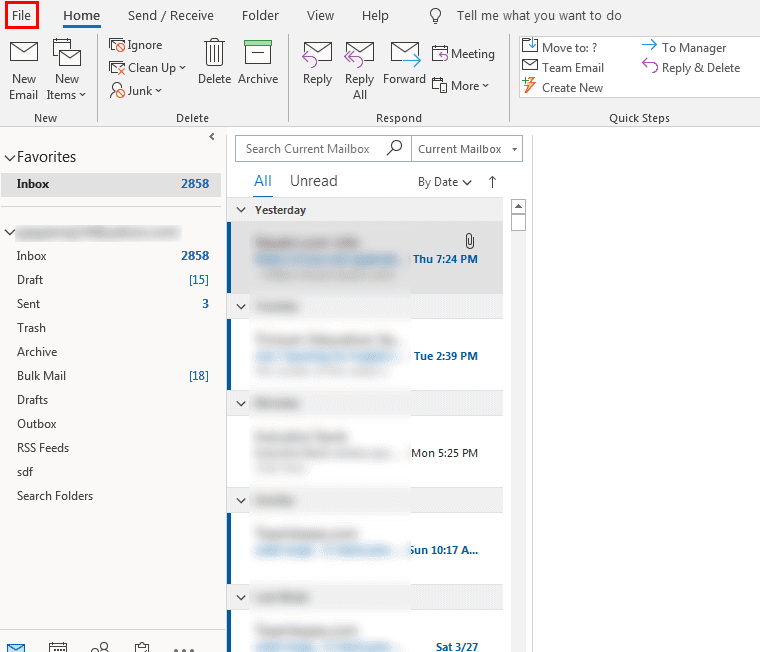 Now, select the Open and Export tab and click on the Import/Export icon.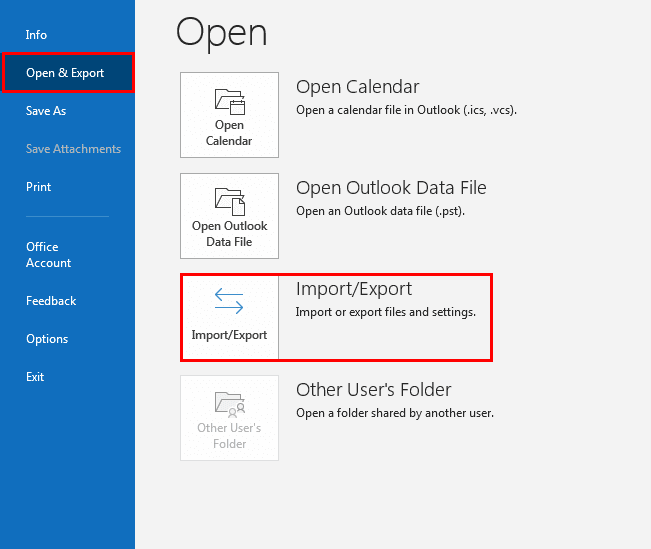 A new wizard will appear on the screen. Click on the Export to a file option and click on the Next button.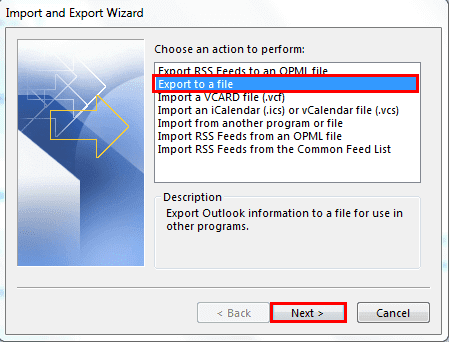 After that, click on the Outlook data file (.pst) option and proceed further by pressing Next.
Now, select the desired mailbox folder that you want to migrate, and click on the Next button.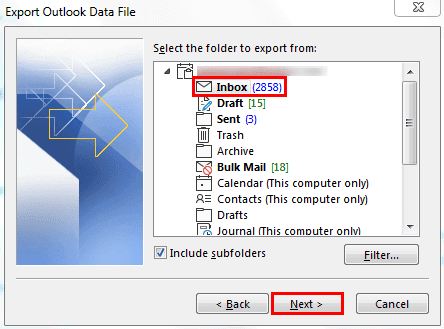 After that, click on the Browse button to define a destination to the resultant document. At last, press the Finish button to complete the IMAP migration process.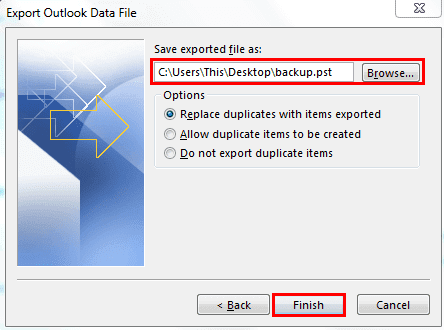 The above manual technique to save IMAP mailbox data in Outlook PST is effective. However, there are some limitations to this method.
Limitations of the Manual Migration
Manual migration is ideal when you have patience and basic technical knowledge. You can save IMAP mailbox data in Outlook PST with ease. However, along with advantages, manual methods have flaws too. The main drawbacks of the manual techniques are below.
The technique is not suitable for new users. They find the steps complicated.
Chances of file corruption are high, which makes this technique an unreliable option.
You can not migrate some specific emails. Only bulk migration is possible, and there is no filtering feature available.
Also, sometimes, you can not convert IMAP Mailboxes to PST files in bulk. The manual method allows you to convert one file at a time. Therefore, the procedure is time-consuming.
You can migrate the mailbox data into a particular file format. It does not allow saving the emails in multiple file formats.
These are the main limitations of the manual solution. Hence, the ideal option is a professional tool to save IMAP data to PST.
Professional Solution
Cigati IMAP Backup Tool is the professional software to save IMAP data to PST file format. It is an ideal solution for IMAP migration because it migrates the email in a fast and effective manner. Moreover, the tool offers various exclusive features that facilitate IMAP migration. The main characteristic of the software is that it has a simple and interactive layout such that any new or experienced user can save IMAP mailbox data to PST the data with ease.
Conclusion
Hopefully, you have learned the methods to save IMAP mailbox data in Outlook PST. You can use a manual technique which is best for users who are looking for a free solution. However, it is not the ideal option. The best method is the Cigati IMAP Backup Tool which is an automatic solution. It offers various outstanding facilities, so anyone can migrate the emails without damaging the file content.
Realted Post