To secure your Outlook PST data, you are often required to change password in Outlook. But, some of you are not habitual to Outlook and so require enough knowledge and time to do so.
The Outlook is an email application that is familiar to all Microsoft users. It saves files in online and offline mode. The files are available to you as PST or OST data. It comes as a secure platform to send or receive mails. But, still, it is vulnerable to online threats. You can also upgrade your Outlook 2010 to 2016.
Don't worry, in this article, you will find the 3 best methods to help you change your password in Outlook. With these methods, you can:
Reset password Outlook,
Update password in Outlook, and
Change Outlook email password.
Let us learn about how to use these methods to change the password in Outlook.
Ways to Change Passwords in Outlook with 3 Best Methods
Method 1: Change with Outlook connected accounts
To change the email password of Outlook, follow us:
From the "File" tab, select "Info." It will display on-screen "Account Information".
Note: If you're working on Outlook 2003, click the Tools menu and select "E-mail Accounts."
Pull the "Account Settings" button, and there select "Account Settings." It will show all of your connected accounts in a new window.
For Outlook 2003, select "View or change existing email accounts."
Choose the account you want to change the password to.
Observe that you'll be changing the password that Outlook uses to access the account, not that account's actual password. If you want to change the password that protects your Outlook account, you'll need to do that through your email service.
Press the "Change" button. That will open the details of the account you selected.
Write the correct password into the "Password" field. You can get this in the "Login Information" section.
Go for the "Next" option to save your settings, and to test the password. After this, Outlook attempts to log in to your account. If it is successful, you'll get a "Congratulations!" message.
If you are not comfortable with this method we have got another method to change the password in Outlook.
Method 2: Update the Outlook Data File
Perform these steps to update the password in Outlook:
Firstly, in Outlook, Click the "File" tab and select "Info." That will open the "Account Information" view.
Note: Outlook allows you to set a password for the Outlook outcome file (PST). When you put a password for this file, it prompts you for it whenever you open Outlook for that account. To change this password, you'll need to have the original Outlook password, even to open Outlook. It is impossible to retrieve this password or exchange it without the original one.
Tick on "Account Settings" then select "Account Settings." That will open the Account Settings window.
Select the "Data File" tab. This step displays information on your Outlook data files.
Choose "Outlook Data File" and click "Settings." It will open a new window with the data file settings.
Pick the "Change Password" option. This option will not be available if you are using an Exchange account. Your Exchange network password is to protect your data.
Write your old password and create a new one. You'll need to type the original password, and then enter the new password twice. You cannot change the password without knowing the original.
If the above method does not agree with you, then try the next method to change the password in Outlook.
Method 3: Reset with Outlook.com
Follow these steps to reset password Outlook:
Contact the Microsoft Account password reset page.
Your email address at @outlook.com (or @hotmail.com, or @live.com) is your Microsoft Account. If you change your password for @outlook.com email address it eventually changes the password for all Microsoft products that you use that email for, including Windows, Skype, and Xbox Live.
You can make use of this address to reset the process: account.live.com/password/reset.
Firstly, on this page, Select "I forgot my password" and click "Next." This will begin the reset process.
Secondly, input your Microsoft Account and complete the captcha. The Microsoft Account is the @outlook.com address for that you want to change the password.
Thirdly, pick how you want to receive your reset code. You can modify the recovery methods associated with your account to receive your code.
You can set up a backup email that can be used to get the code.
Enter your phone number to associate it with the account. Then you can receive the code sent via SMS.
If you install the Microsoft Account app on your mobile device, you can use it to generate a code.
If you cannot use any of the above, select "I don't have any of these." Web page then asks you to fill out a short questionnaire to verify your identity.
Paste the code that you have received. It will take you to the Password Reset page.
Lastly, copy your new password. You'll be asked to write it twice to proceed. This new password will take effect right away, as you get signed out of any devices that are currently logged in with the old password.
You had collected all the important pieces of information stored on the Outlook emails. But, a simple password failure can make this data inaccessible. You cannot lose all this data because of the loss of a password. If after trying all the manual methods you failed in getting access to the Outlook file, then what can you do?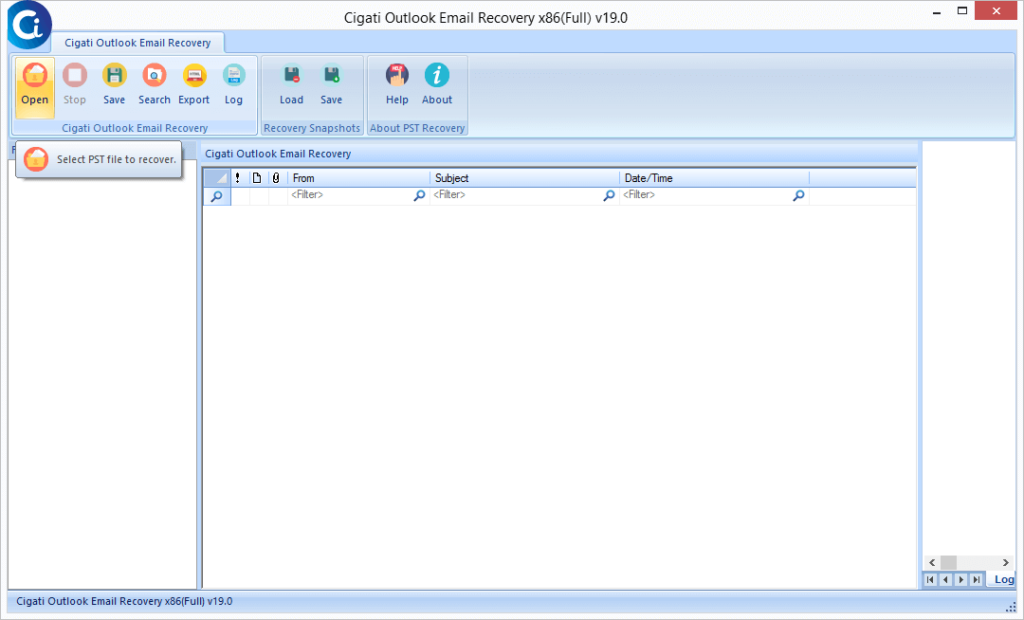 In such a hopeless scenario where it comes to all the significant data stored on Outlook, you need to avail of services of Cigati Outlook Email Recovery. With this, you can recover your Outlook PST files from unreadable as well as the corrupted state. It provides you options to switch PST files into other formats too.

Conclusion
We work daily on Outlook and collect several pieces of information on files. Change Outlook email password to safeguard these data. But what to do if we forget to set a password or change password in Outlook. You can always get back Outlook PST files with Outlook email recovery to get all your data back as original.