If you want to convert PST to EML, then here in this blog you can learn the best possible way to convert the Outlook PST file into EML file format easily.
Email conversion is need of the day when it comes to switching from one email client to another. Normally, all the email clients are not compatible with the same file format, that's the reason you cannot import all your files directly. In the present scenario, most of the email clients vouch on managing your email data efficiently. MS Outlook is one of the leading clients to offer this service.
When you configure Outlook into your system you can access your data both online and offline. Outlook manages all your personal information by storing it in the PST. You can also migrate PST to MSG file. When you use Outlook and want to open the PST file into Mozilla or Outlook express then what will you do, because both of these clients are compatible with the EML file? In such cases, all you need to do is to export all your PST files into EML format. Once you are through the conversion you can operate all your Outlook emails in Thunderbird.
PST to EML Conversion
The term PST stands for Personal Storage File. In MS Outlook all the email data is stored in the PST file format. We had a very detailed discussion on PST format in my last article. Now let's discuss what EML file Format is. EML file format stands for E-mail Message. It is not only used by Microsoft Outlook Express application but also by multiple Microsoft OS. It supports all the versions of Microsoft, right from Windows 98 to Windows XP. In the Outlook Express, all the emails are stored in the EML file format. EML file format is also supported by Thunderbird, Linux, and Mac.
Pros of Converting PST File Format to EML File Format
In PST file format the entire mailbox is saved but EML file only stores your emails.
In Outlook PST there is a limit to store your file, however, there is no limit for storing your emails in the EML file format.
The PST file format, data is stored in an organized form however In EML data is unsorted.
EML file is easy to access from anywhere around the world.
How to Convert PST file format to EML File format?
Manual Tricks
Export MS Outlook Profile into Outlook Express
Import Outlook Profile into Mozilla Thunderbird
Import MS Outlook to Mozilla Thunderbird version 17.09
The procedure mentioned manual procedure might look complicated to perform. Hang on! Sit back and relax. Follow each step carefully to convert PST to EML manually. Before starting the process make sure that you take the back up of your data files and store them at the secured location.
Fix 1: Export MS Outlook Profile into Outlook Express
By using Outlook Express and Outlook, one can easily migrate from Outlook profile to Outlook Express hence making the conversion from PST to EML absolutely free. In order to perform this action, all you need to have is to install both the clients (Outlook and Outlook Express) in your system. Else the conversion from PST to EML will not be free.
Steps to Open Outlook PST File:
Click to open Microsoft Outlook>>File >>Open and browse to Open Outlook Data File.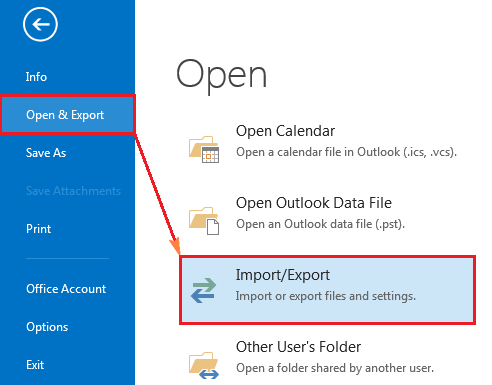 Select Outlook Data File (PST) which you want to export and click OK.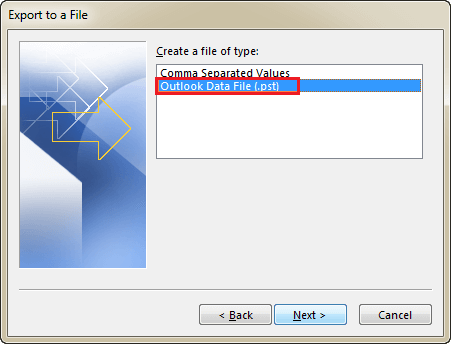 Now you can view PST data in Microsoft Outlook.
Now, all you have to do is to Migrate Outlook profile to Outlook Express:
Click to open Outlook Express>> File>>select file that you want to Import>> Select Messages
Choose Microsoft Outlook>>Click Next.
A window will reflect two options-
All folders: to shift entire data of Outlook to OE (Outlook Express).
Selected Folders: to shift selected data of any specific folder.
Choose the desired Option and Click Next.
Now the migration process will start.
Once done, a congratulations message will pop up on the screen. Click Finish.
This is the 1st manual method to convert PST to EML. You can easily convert PST to EML by following the above-mentioned steps carefully. Before you proceed make sure that you take the back up of your data.
Fix 2: Import Outlook to Mozilla Thunderbird
When you access the Mozilla Thunderbird email client, you can easily migrate from PST to Thunderbird. But make sure that you have installed both the email clients on your system. Else you will not be able to import Outlook to Mozilla Thunderbird.
Follow the below-mentioned steps to start the process:
Browse to open Mozilla Thunderbird>>Click Tools>>Click Import.
Two options will appear on your window:
Import all: when you want to import all your Outlook data to Thunderbird
Select the items to import: when you want to import the selected data of Outlook to Thunderbird
Select Import Everything and Click Next.
Then Select Outlook and click on Next.
Now the import process will start.
Once completed, you will be able to view your Outlook data in Thunderbird. Which means that your PST file has converted into EML.
To view the converted files, select All emails by using CTRL+A. Do the right click and click on Save as.
Now, all your emails will be exported into EML format.
Fix 3: Import MS Outlook to Mozilla Thunderbird version 17.09
Install Mozilla Thunderbird version 17.09 on your system. It is a free email application.
Now create your account or you can also use your existing account. I have used my Gmail account.
Now manually configure by providing incoming (IMAP) and outgoing (SMTP) server address and SSL port number of your web-based account. I have configured my Gmail account.
Wait for some time until the mails are synchronized from your web account. Now go to tools and select Import Option.
Select the type of material to import. Click Next.
Select Outlook and Click Next.
The import process will start.
Click Finish when the import process completes.
Select Outlook import is given on the left pane. Select all mails (CTRL+A) and choose "Save as" option by doing the right click on the mouse.
Now specify the destination folder path where you want to save the EML file. You can find the converted EML from the windows explorer.
I believe that you must have successfully converted your PST file to EML by following these methods discussed above.
But these tricks are pretty complicated for the novice user to understand.
In the Manual trick, you have to follow some critical steps where there is a chance of getting too much error.
It is very time taking too.
These manual methods lack lots of features that can only be found in the professional utility.
I have used Cigati tool for PST to EML conversion earlier and I very impressed it hardly takes time to perform the action without causing any harm or altering your file
Some Top-grossing features of Cigati tool for PST to EML conversion
It converts all the PST files in 16 formats like MBOX, PDF, HTML, EML, etc.
It follows advanced and standard Mode for converting PST to EML file Format.
You can access your PST file using different email clients like Gmail, Yahoo, Outlook, Thunderbird, etc.
If a converted file is more than 500 MB then you can split it by using this tool
It maintains the originality of your data.
Works with all the windows 10 and its earlier versions
How to operate Cigati PST to EML Converter:
Download and Launch the Cigati PST File Exporter
Then click on Add Files and choose the PST file that you want to export.
To save the files click on Save as EML and click on Convert.
Else, select Save as Other Formats and click Convert.
If you want to filter your data by date then click on Date Filter and specify the dates.
Now go to Choose Output Option and select the file format in which you want to save the date and then click on Apply.
In case you want to export your files directly to any other email account like Gmail or Yahoo, then click on Next and then Click on Single-mode.
Now select Inbox or Sent file system and select the preferred email client from the drop-down menu and click on Convert.
Now give your credentials and Log in.
Wait till the application converts & exports your data.
Conclusion
You can download the free version of Cigati from our website. Once you are through the test drive, go for the paid version. This utility provides you a solution to save PST files in multiple Formats likewise EML, EMLX, PDF, MBOX, MSG, etc. Good news for those who want to convert Outlook PST to EML, this tool enables you to convert the end number of files irrespective of its size. Once you have successfully transferred all your PST files to EML it preserves the original file accurately.