Lost your precious photos and videos from SD Card and now worried about how to recover deleted photos from SD card?
Generally, we use SD cards as an extension of electronic device's internal storage. These small, external memory cards help you with great capacity to take and save huge digital photos and videos. You can change cards in and out in order to create immense libraries of photographs that can be viewed whenever required.
These cards offer great flexibility in terms of storage space on the device. So with the SD Cards users can easily store a large number of photos and videos.
However despite all its goodness, Storage cards are also easily vulnerable to corruption. Hence, Data saved in these cards are also in danger. There is a higher chance that you may lose your precious photos, videos, documents and a lot more things saved there.
If you are also facing the issues of losing data. Then don't panic , there are multiple ways to recover photos from SD card. But before we reach the solutions, let's discuss the symptoms and causes of the corruption or failure of SD Cards. You can also Find Missing Photos From Your PC.
Reasons to Lost Photos from SD Card
An memory card makes it easier to save crucial data like photos, video, etc. But it also easily gets into data loss issues even with the smallest action you perform. For several android phone and camera users losing photos from the SD card is the most common issue.
Generally, users have to face loss of pictures due to the below major issue:
Unintentional deletion of photos by users.
Sometimes due corruption in SD card
Formatting of the SD card
Virus or malware infection, power failure, and many other issues also leads users to lose the photos or data.
Whatever the reason to lose your photos, once you find that there data loss. Then immediately stop using the SD card. Above we discussed the reason behind the data loss in SD Cards.
Now, let's see some tips that can save us from the situation of how to recover deleted photos from SD cards.
Tips to prevent losing photos & Videos from Memory Card
Don't take out the SD card from the device without you stop working with the device.
It is suggested not to use the same SD card on several devices.
Always keep the SD card in a dry and cool space at room temperature.
Stop taking more & more photos when the SD card storage is about to full.
For computers, make sure to Install antivirus on your system.
Always ensure to have multiple backup of your photos & videos.
Here, we discussed some tips that can help you to prevent corruption in SD cards and data loss issues. Now, let's discuss methods to recover photos from SD card in the below segment of the blog.
Manual Steps to Recover Deleted Photos from SD Card
Below are some manual Steps that help you to recover your lost photos and videos from the SD Card.
Restore with dates: Sometimes, the date and time of the photos and the date and time of the device are not similar. So, users can not find the images. Therefore you can search the images by putting the date on the search box in which it was taken.
Unsupported Format of image: Some devices don't have supportability for every image or video format. So you should ensure whether the device supports the file format or not.  
Recover from backups: A good backup is something that helps you to access your lost data. One can also recover deleted photos from the SD card with the help of the backup.
For doing so, Go to the settings and check whether the automatic backup option is assigned green or red. If the automatic button is remarked as green, then you may get your deleted data back from the backups.
Sometimes social media can also help you to get photos and data back if you have uploaded them there. You easily download the required photos and videos from there.
Restore from Recycle Bin: Whenever you delete bulk images, some of the files get deleted unintentionally, deleted some of your crucial files. So you can check the Recycle Bin folder and can get rid of the situation of how to recover photos from SD card.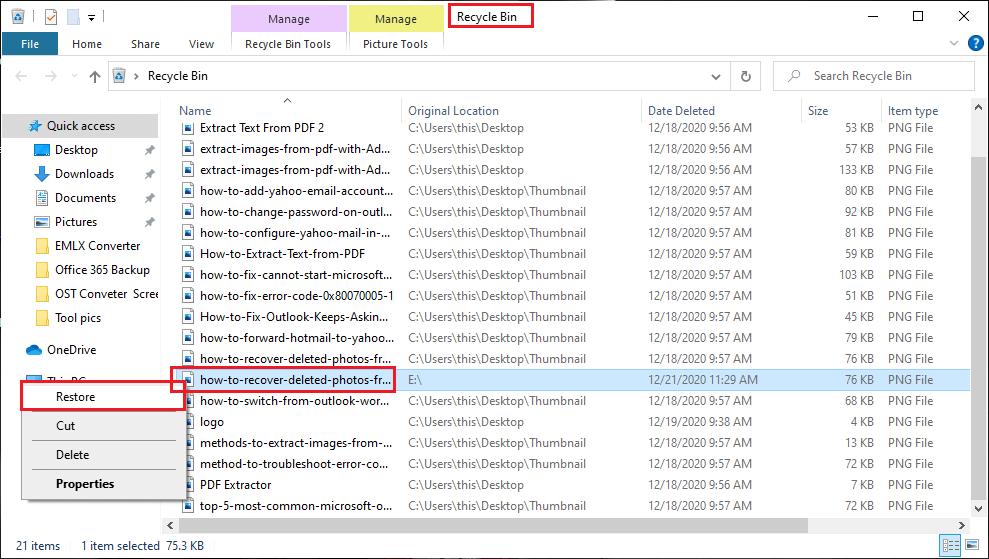 Note: Once you delete any image they remain in the folder up to 60 days. But the time varies as per the configuration done by the users.
Conclusions:
Most people lost their photos' by mistake, and it is a most common reason for the loss of photos from your storage device like SD Card, Hard Drive, etc. Here, in this write-up, we discussed different methods to recover deleted photos from the SD card. You can fix your issue with any of the above methods. Hopefully, these methods will be proven helpful to you, and it will successfully recover your crucial photos from a memory card.