In today's technical era, every small as well large organizations use SQL Server to handle their crucial data. But sometimes due to virus attack, abrupt shutdown, and other issues, the SQL Server database becomes corrupted and data becomes inaccessible. So we are here with this write-up that will guide you step by step to repair corrupt SQL Database MDF Files. Here, we will discuss the manual as well as professional solutions to repair the corrupt MDF File.
MDF file is the Primary Database file of the SQL database that stores tables, triggers, functions, and many other data. So, corruption in the MDF file is a disastrous condition for the users. Before we discuss the solution to recover corrupt MDF File. Let's discuss the reasons for corruption in MDF files.
Reasons for SQL MDF File Corruption
There are many reasons due to which the MDF file gets corrupt. Some of the major reasons are as follows:-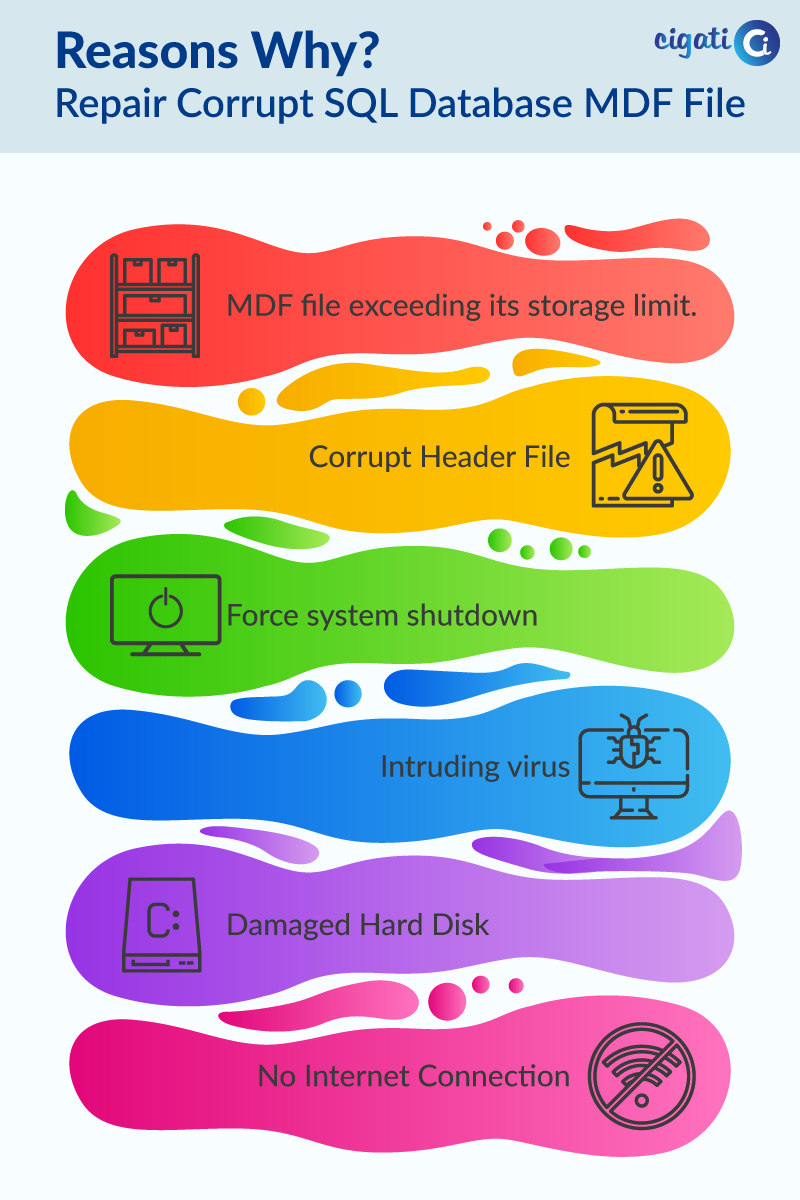 Corruption occurs when MDF files exceed the maximum storage size limit.
If the file header is corrupted, it corrupts the MDF file.
Malware attack, hard disk failure, Abrupt system shutdown also causes MDF file corruption.
If you use the SQL database and the network failure error occurs, it results in the MDF file to corruption.
Due to all the above reasons, the MDF file gets corrupt and data becomes inaccessible. Now, in the next, we will discuss the solution to repair MDF File. Sometime, you might face SQL server recovery pending error but don't worry, you can fix it easily.
Repair Corrupt SQL Database MDF File Using Manual Methods:
There are several inbuilt tools present in SQL Server that can be used to restore the MDF database. Go through the below steps to repair corrupted MDF file:
Repair Corrupt MDF File With DBCC CHECKDB
DBCC i.e, Database Console Command CHECKDB helps us to check the physical and logical integrity of objects in a SQL Server database. The command is supported by databases that have memory-optimized tables. But the validation is only supported in disk-based tables. Execute this command by following these steps:
First, execute DBCC CHECKDB on the damaged SQL database using the following query:
DBCC CHECKDB (Name_of _corrupt _database)
Now, verify the index ID. If index ID > 1, then drop it and generate it again. In the case where index ID is either 0 or 1, then execute DBCC CHECKDB again with the multiple repair options such as-
DBCC CHECK (name_of_corrupt_database, repair_fast)
DBCC CHECK (name_of_corrupt_database, repair_rebuild)
DBCC CHECK (name_of_corrupt_database, repair_allow_data_loss)
With the above solution, you will successfully repair corrupt MDF File. But if you fail to repair corrupted MDF Files with this solution then use a professional solution. There are some consequences of manual solutions that prevent you from repairing damaged MDF Files.
Consequences of Manual Solution:
To repair MDF File with the above-mentioned commands you must have Microsoft SQL Server Management Studio on your computer or PC.
Takes a lot of time and Lengthy.
Needs technical expertise, so a non-technical user has to face difficulties.
Data loss is at high risk.
Here, we discussed the possible consequences that users have to face while executing the manual process. In the next section, let's discuss a professional solution that prevents all the consequences of manual solution. It provides you a reliable solution to repair the corrupt SQL database MDF file.
Professional Solution to Repair Corrupt MDF Files:
The professional solution involves the use of third party software to solve such issues. Several commercial tools are available in the market that helps you to get a hassle-free solution. One such software is SQL Recovery, which is an exclusive software that performs a reliable recovery of the SQL database. It repairs the corrupt MDF Files without any original data loss and alteration.
Final Words:
In the blog, we discussed here how to repair corrupt SQL Database MDF file with the manual method. And due to the consequences of manual solution professional solution is also discussed. We discussed a utility that helps you to repair the MDF file reliably. But you are independent to choose any of the methods as per your need.